Top 10 must have fly lines for competitive loch style fly fishing
Wayne Jones
Since launching the fly shop and guiding one question I get asked a lot is why so many lines and what would you class as essential.
The first is a floating line this is a must have. I use the Loop Opti still water in a WF7. This line is mainly used for dry fly or bung fishing. It loads the rod very fast and is great for covering moving fish fast. It also turns the bung and flies over very well when bung fishing.
Airflo Superflo 6-foot slow tip in WF7. This is my go-to line for straight lining nymphs or buzzers. With the 6-foot slow sinking tip line I have much more contact with my flies in any ripple and find the take detection to be fantastic. I also like this line for washing line style but using fabs or foam daddies rather than boobies.
Airflo Superflo 12-foot slow tip WF7. This is with out doubt my most used line in a season. I find this line just sits at the right depth and is perfect for the washing line style.
Airflo Superflo 12-foot fast tip WF7. This is a great line for deep buzzer fishing or for when you want to present fabs and nymphs deeper static.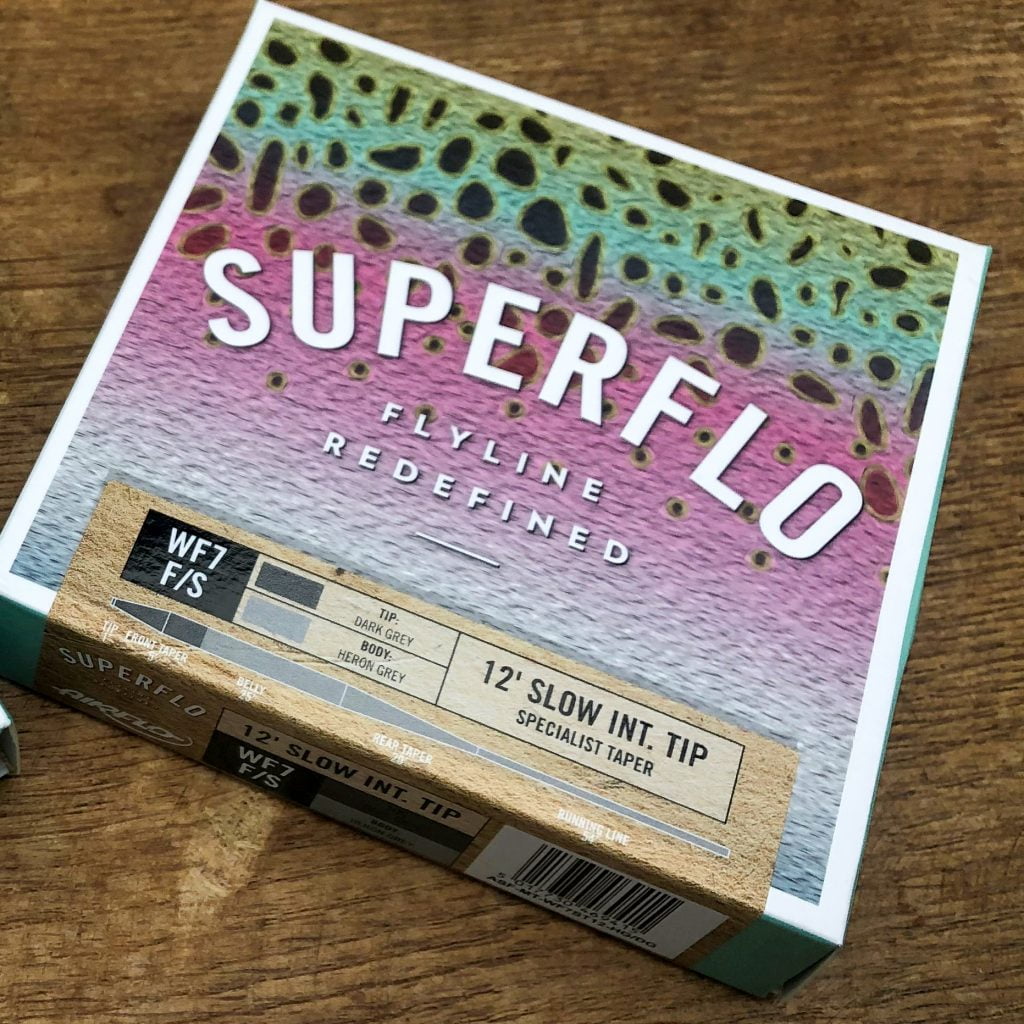 Airflo Slow Glass intermediate WF7. This is a great searching line for covering lots of water on the pull. I really like using this line with a slow rolloy polly or figure of 8. Its great in a big wind when the fish are still high.
Airflo Fast Glass intermediate WF7. There was a time when this was my most used line. A great line for pulling or twiddling boobies on. Also great for fishing traditional wet flies.
Airflo Sweep 3 sinking line WF7. This line sinks at 3 inches per second. This is a great searching line and sinks in a u shape. You can accentuate this profile by fishing a booby on the point to Really get the arc.
Airflo Sweep 5 sinking line WF7 This line sinks at 5 inches per second. This is my favourite line for deep booby fishing or pulling in a big wind.
Airflo Di 7 40+ sinking line Wf7. Th This line sinks at 7 inches per second. This is a great casting line and you can cover a lot of water with either a fast stripe back or rolly polly retrieve. On those big wild days or early season when the fish are responding to the pull this would be my first choice.
AIRFLO FORTY PLUS EXPERT BOOBY FLY LINE – 400G (Booby basher) The Airflo Booby Basher is a seriously fast sinking 40+ fly line which sinks at a rate of 8ips. Ideal for boat or bank anglers looking for unrivalled distance and depth. This is a special line and one I would not be without for Llyn Clywedog or Llyn Brenig. Its not just ideal for fishing at extrema depth but great for covering lots of depths to work out what depth the fish are sat at. This line requires to be cut back to fit your rods AFM rating. My top tip with this line would be to cut it the same length as your Airflo 40+. I have seen to many people leave this head to long and the they are unable to cast it or constantly hit their boat partner.
These lines are my most used I do have others and other manufactures but these are my top ten. I am not supported or sponsored by Airflo. I have used their lines since the early 90s and rate them highly they also last very well. The new Airflo superflo tip lines are a marked improvement on an all-ready great line the new running line is so smooth in your fingers and take detection is really good. I hope this helps on line choice when you are getting kitted out.